Cedar Creek Cavaliers
Will Melt Your Heart!
Cedar Creek Cavaliers
Will Melt Your Heart!
Cedar Creek Cavaliers
Will Melt Your Heart!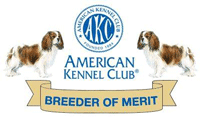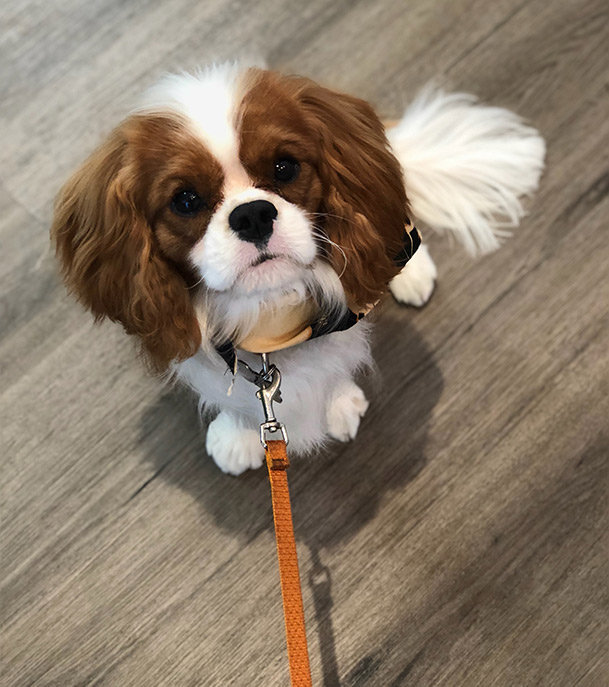 Welcome to
Cedar Creek Cavaliers
Looking for a breed that is bred to be your best friend?  We are delighted to share this wonderful breed with you as we feel that they are simply "The BEST." 
As an AKC  BREEDER OF MERIT and long time member of the Cavalier King Charles Spaniel Club USA, we have placed an emphasis on breeding Cavaliers that represent the breed in type, beauty, temperament conformation and health. Although we have been breeding since 1999, we can never stop learning and improving. 
Come take a walk through our pages and learn about Cedar Creek Cavaliers.
..  We are always willing to talk with you if you would like to connect by phone or email.
Jim and Trudy Owens
 Top of the line! That is what our little Sassafras is. She came to us a beautiful, healthy little puppy that toddled over to my boys and never looked back. "Sass" as we call her, lives up to her name, and has a personality that never ceases to amuse us. She is a talker, and uses subtle sounds to let us know what she is thinking. Adorable! Physically, she is gorgeous and perfect to behold. When people see her they instantly know she is special. And she is. She walks up to every stranger, every child, with a wide smile and a wagging rear end. I can always trust Sass to be patient and loving. She is also very athletic, just as I had requested in my puppy, and hikes with me routinely. The longest walk yet was 9 miles, and when we were done, she still wanted to play a game of ball!
Why did I go with Cedar Creek Cavaliers? It all came to down to Trudy and how she treats her dogs. When I talked with her on the phone I knew she wouldn't give a dog to just anyone who had the money. She CARED about where her little baby would be going. While the puppies are in her care she is very deliberate in how she readies them for their new family, and they are exposed to so many things so that they can be flexible and brave. Our Sass is just that. Also, after she came to live with us I was having some trouble training her on the lead and also with getting her to stop using her mouth and teeth to communicate with us. Trudy made time for me one morning soon after I contacted her and spent all the time I needed taking Sass and I through the paces. After her advice, the concerns went away in short order. She helped me understand Sass better.
Dogs are family members. It REALLY MATTERS that these puppies are tenderly intentionally cared for, as are Trudy's other dogs. An ethical breeder is the one to support. You are paying for a lifetime of love, and the reassurance that your puppy comes from healthy lines
Our special needs son Cory 24 is a very active athlete with the local Special Olympics. Cory's 12 year old Schuazher pasted last May so we knew we had to find a new companion. We wanted a pet with good temperament, obedient, and one that can provide comfort and companionship. After a lot of research we found the Cavalier King Charles was originally bred to provide all of these qualities.

The next step was finding a reputable breeder. I located Trudy through the King Charles Spaniel Club. I checked out her web site which provided a wealth of knowledge and great information. We also attended a local AKC dog show and met her there for the first time. This gave us a chance to see the breed and attend a show.

We met again with her when the puppies were a few weeks old so she could get to know our lifestyle and personalities so we could get the right puppy that would ideally fit into our family without major adjustments.

Winston is the perfect fit. He has been a great companion for Cory. He is always right on Cory's heals ready to play their favorite game "Fetch" or take their afternoon nap together.
Our little boy Arthur is the BEST dog ever! He is the PERFECT dog for our family. He is so sweet and loving. He is always ready for kisses and loves to cuddle! Arthur is so smart and friendly. He loves to go anywhere with us and is a very happy boy. He loves to play and wag his tail and go for daily walks. Trudy was so helpful and helped us make the best choice, She is always there if we have any questions. Cedar Creek Cavaliers is the BEST!!
Vanessa, Donovan, Grace and Paige Gladstone
On July 15, 2013 Coco Chanel joined our family. She is a well behaved gentle puppy with a spirited streak. Thank you Trudy for the patient training that Coco received. Coco is an intelligent quick learner and a wonderful companion for us. She enjoys her nice big yard and is always bringing us treasurers that she has found. We had done a lot of research a couple of years ago and due to a heart attack we had to wait. Coco was worth the wait. We would highly recommend Trudy Owens & Cedar Creek Cavaliers to anyone that is interested in a puppy.
Just a note to express how thrilled we are with Bonnie. She is an absolute delight. She trains so easily it is hard to believe. She slept through the night from the git-go. Never had to get up at night to take her out to piddle - ever. She learned the AutoSlide door opener in just a minute or two. She has yet to bark. She just squeaks or a low grunt to get our attention. She always lays down by my side if she is not playing with her toys or outside. She is either going full tilt or at full rest. Her tail goes a mile a minute - wag wag wag. Loves to meet other people but once she has done so, she goes about her business and is not a pest. We have had workmen laying down hard wood flooring the last two days. As you can imagine a LOT of very loud noise - pneumatic nail drivers, compressors, etc. Not a problem - like they were not even here. We are very aware that Bonnie would not be as stable, confident and friendly if it were not for all the consistent effort you put into your puppies. YOU have made the difference in our Bonnie and we will always be grateful to you for this. Well worth the extra price for such a great companion dog.
Richard and Sheila Friberg
My family and I would just like to say thank you very much for our little Romeo. We unfortunately did not have a very good experience with another cavalier breeder and are very thankful we found you.

I appreciated the fact that you did not mind me asking you as many questions about you and your cavaliers as I wanted. You were never annoyed or irritated with my questions. We knew you were the right breeder for us after talking with you and after walking into your home. We loved that you were a breeder who said you live with your cavaliers and you really do.

It's very obvious, you do not do this just for profit, you do this because of your love for the cavaliers and it really shows. This is why we wanted a cavalier from you. Romeo is a very well adjusted, happy, healthy boy and I credit you for that. Not to mention, he is gorgeous!! I also appreciate that you do not mind and actually encourage an ongoing relationship/friendship with the families who adopt your cavaliers. Thank you for a wonderful experience and a very wonderful Romeo!

You are more than welcome to share our experience and my email address with anyone who is thinking of getting a cavalier from you.....I'd love to talk with them and show off Romeo :)

Thank you,
After we lost our family dog of 14 years, we were looking at other dogs, breeders and shelters. We found Cedar Creek Cavaliers online among a few other Cavalier breeders. We talked to a few and instantly knew when we spoke with Trudy at Cedar Creek that we had found where we would get our next dog. Trudy took such care and interest in matching the right dog with the right family. She fully prepared us for our new puppy and our puppy was so well adjusted when he came home. We still receive support from Trudy and know how much she cares for her dogs. Thank you Trudy and Jim for our "sweet" Charlie, we can't imagine our home without him!!!
Sincerely,
Captain is perfect for us. We appreciate all the work and love it took to give our puppy a good start for his new home.

Our Cavalier is healthy, confident, affectionate and playful. He goes everywhere with us. We simultaneously wish we'd
done this sooner and are glad we waited until retirement so we haven't missed a minute. He gives us unconditional love.
Captain's training program is coming right along. We do most everything he wants. :)
Bill and Connie Ward
We first become part of the Cedar Creek family in 2009. We meet Trudy and the girls in May, adopted our first pup in August of that year. Trudy has been an invaluable source of information and a constant counsel. When we got ready to look for a new pup late in 2011, we of course returned to Cedar Creek. We are now the proud parents of two Cedar Creek Cavaliers. We are thankful every day for Trudy bringing us into the Cedar Creek family. Her home is first rate, the dogs are part of the family and very well adjusted when leaving to join their new home. We have gained not only two wonderful little dogs that enrich our lives but also a lifelong friend in Trudy. We cannot express strongly enough our recommendation of Trudy Owens and Cedar Creek.
Cullen and Cassandra Wallace
Sometimes buying an older dog can be a good thing. They are trained, housebroken and seem to adjust well. We fell in love with this girl and she has been a delight to our home and heart!
I fell in love having lunch in a small bistro in France in 1995 when the owner's Cavalier befriended me over a long 3-hour lunch. I never wanted the lunch to end, and I knew at that time my love affair with Cavaliers had begun. I had to have one. Once the stars aligned and we were ready to get our first Cavalier King Charles Spaniel, we thoroughly researched the breed and the breeders with the best reputations in Washington. After several visits, we knew Trudy and Jim were the ones we wanted to work with. They were personable and loving to each and every one of their dogs and puppies, made their health a top priority, and raised each puppy in their home as though it was theirs. They understood our needs and timing and worked with us to find the perfect match. Choosing a breeder that goes beyond just getting the puppy is essential, and Trudy and Jim's commitment to carefully selecting their puppies' families, and their desire to have a long-term relationship with their families is priceless. We wouldn't use any other breeder! Our two puppies, Malcolm and Cara, that we adopted from Trudy and Jim are the best additions to our lives and boating companions when we cruise!
When we began looking for our second Cavalier, Trudy stood out as someone who cares immensely about her dogs, and the homes they end up in. Trudy listened to what we wanted in a dog, and helped us choose a puppy with the perfect personality for our family. Reilly has been so much fun and brings added joy to our home. We feel so lucky to have her and to have the continuous support from Trudy. Thank you Trudy for "this life of Reilly."
Sir Albert "Bertie" has been an official member of our family since January 4th, 2012 and we are so in love with him. Now 11 weeks, Bertie has adapted to living on the bay, gnaws on clam shells and watches the gulls fly back and forth . He is spunky, loving, and devoted to learning to retrieve! Trudy has been our guide and our cheerleader in helping us teach this fabulous breed to remain truly distinguished. Thank you ,Trudy, for all you do to bring love and joy to so many families and their beloved puppies. We will continue to communicate and send pictures of Bertie's many feats!
When you purchase one of Trudy Owens adorable King Charles Cavaliers, you not only get a wonderful puppy, you also get a lifetime of advice and counsel from Trudy. Trudy wants to make certain her puppies only go to the best homes, and once the decision is made, she is there to help you locate the best veternarian, to advise you on the best dog food, or to alert you to any dangers or toxins your dog might encounter from unhealthy dog products. Recently when I was out of state, my four year old Rudy had a health issue and Trudy was constantly on the phone with me advising me to ask the right questions of the vet and to make certain Rudy got the proper care. She is the best, and I will always be grateful for her wise counsel and caring.
We are so happy with our Quinn, formally known as Pocket! Trudy went above and beyond answering literally hundreds of questions from me. She continues to answer any questions we have now that Quinn has come home. THAT is customer service!! We knew what we wanted in our next dog and what type of breeder we wanted our next dog to come from. Trudy was it. After contacting many breeders she was the one who fit my perfect breeder profile. The early training, the socializing, exposing them to many different things, the potty outside and even getting them used to a crate to sleep in. She truly does a fabulous job raising her babies in a clean happy HOME environment, all important to me.

I've had many smart dogs in my life but none have been so well adjusted, smart and easy to train as Quinn. He doesn't think twice about loud noises, he's very attentive and a breeze to train. We taught him in less than 5 minutes how to ring a bell to ask to go outside. I have NEVER had a dog that didn't scream the first night. Quinn has not made a peep in his crate at night. He's really a wonderful dog.

We are grateful to have found Cedar Creek Cavaliers. I hope Trudy does this for many, many years to come. It is refreshing to work with a breeder who is so on top of current health issues, training and socializing and so willing to pass on that info to her puppies families.

Thank you Trudy!!